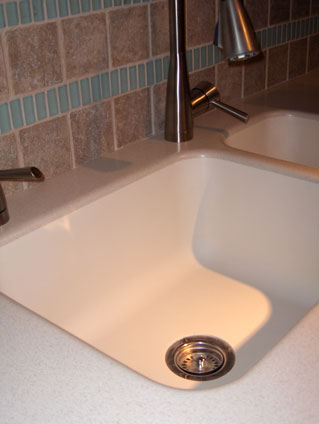 A solid surface countertop can be a beautiful and durable choice for your kitchen. Available in a versatile palette from solid color to granular, stone-like appearances, solid surface material offers a renewable and repairable surface for your countertops. Solid surface countertops are made from a solid acrylic or plastic material with the color going uniformly all the way through the material. The nonporous surface resists bacteria and mildew as well as mold and stains. Solid surface countertops are strong and impact resistant; should the countertop be damaged, repair is relatively easy.

Solid surface countertops can be designed with much greater flexibility than with other countertop materials. Most layouts can be easily fabricated with virtually invisible seams. The solid surface material can be grooved or carved to make integral drainboards; it can also be inlaid with other colors to form designs in the countertop. Sinks of the same material can be seamlessly integrated into the countertop without overhangs, rims, or rough edges. If desired, standard self-rimming sinks or undermount sinks can be used instead. Backsplashes can be bonded to the countertop surface, making the connection watertight. The countertop edges may be routed according to your design or inlaid with a contrasting color strip, metal, or wood. They can even be routed to match edge shapes on your cabinetry trim. Of course, the more complex the design and shape, especially for the finished edges, the more expensive the project will be.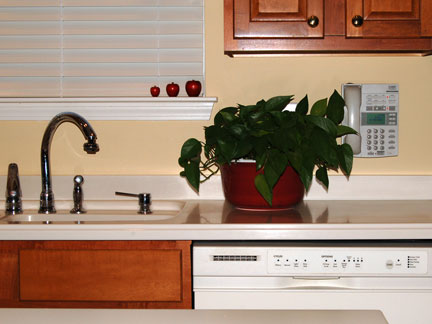 Water-resistant, solid surface countertops can have either a matte or glossy finish. These countertops should be installed by a trained fabricator using specialized tools, and the manufacturers usually require professional installation for warranty purposes.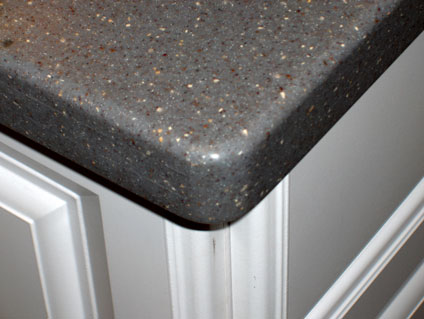 Soap and water on a damp cloth are usually all you need to clean a solid surface countertop, but non-abrasive cleaners may be used as well. If you need to remove minor scratches, stains, or burn marks, you can use a mild abrasive cleaner such as Comet® or Soft Scrub®. Bleach may be needed to remove some types of stains. Solid surface countertops require no sealer.

Don't place hot pots or pans directly on the countertop surface. Use a trivet with legs or another type of hot mat protector. Keep a cutting board handy, as cutting on the surface can damage it. When pouring boiling water through a colander, run cold water in the sink at the same time. Of course, as careful as you are to prevent damage, accidents can happen. Nevertheless, a professional fabricator can usually sand and refinish the solid surface and restore its beautiful finish.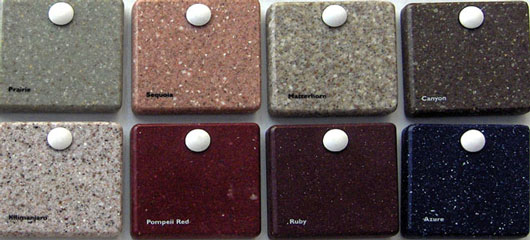 Back in 1967, DuPont developed Corian®, the first solid surface material, for commercial bathroom use. Today, several manufacturers have emerged to make solid surface materials, and they have become very popular countertop products. Visit Corian.com and the other manufacturer sites listed below to find your personal preference. Also look at some of the newer designs, featuring colors and veining that really do mimic stone.
Solid Surface Countertop Material Manufacturers
Related Countertop Page
---
Copyright © 2007-2023 Solid-Surface-Countertops.com.
All rights reserved.
About Us
.
Corian is a registered trademark of E. I. Dupont de Nemours & Company.
Soft Scrub is a registered trademark of the Dial Corporation.
Comet is a registered trademark of Prestige Brands Holdings.
HI-MACS is a registered trademark of LG Hausys.
Solid Surface Countertops - Solid Surface Countertop Guide